Excerpt from www.tennessean.com – Travis Loller
Leaders in the nation's largest Protestant denomination are preaching that integrated churches can be a key driver of racial justice in society. But that could be a hard sell to those sitting in Southern Baptist Convention congregations.
The Rev. Russell Moore, who leads the Southern Baptist's Ethics and Religious Liberty Commission, is one of several white leaders calling for multiethnic congregations in the wake of the unrest spurred by the killings of black men by white police officers in Ferguson, Mo., and New York City.
"In the church, a black Christian and a white Christian are brothers and sisters," Moore wrote recently. "We care what happens to the other, because when one part of the Body hurts, the whole Body hurts. … When we know one another as brothers and sisters, we will start to stand up and speak up for one another."
(snip)
Moore's commission has also organized a leadership summit called "The Gospel and Racial Reconciliation" to be held this spring.
Moore said he has two goals for the summit. He wants to spur churches to work for racial reconciliation by articulating it as a Gospel demand. And he wants to facilitate personal relationships between Southern Baptists of different races.
But some would also like to see concrete efforts to integrate the Southern Baptist Convention, especially at the level of leadership.
(snip)
Nonwhite congregations made up 20 percent of the Southern Baptist Convention's nearly 51,000 congregations in 2012, the most recent year statistics are available from the denomination. But less than 1 percent of those congregations are multiethnic. The vast majority of Southern Baptists attend a church predominantly filled by people of their own race, be it black, white or Hispanic. The situation is nearly identical in most Christian denominations in the United States.
Despite that lack of integration, a phone survey of about 1,000 churchgoers by Lifeway Research recently found that only 37 percent of evangelicals thought their churches needed to become more ethnically diverse. The survey was not broken down by denomination.
Copyright The Associated Press 2015
From www.LifeSiteNews.com – Kirsten Andersen
SAN FRANCISCO, CA, January 26, 2015 (LifeSiteNews.com) — The California Supreme Court has decreed that no state judge may belong to the Boy Scouts of America (BSA), claiming that their long-held ban on openly homosexual adult scout leaders is discriminatory.
The unanimous decision ends an 18-year exception to a 1996 rule banning state judges from belonging to groups that discriminate based on sexual preference. At the time that rule was passed, exceptions were made for nonprofit youth organizations, religious organizations, and military organizations. Now, the only exception left is for religious groups.
From www.LifeSiteNews.com – Kirsten Andersen
MONTGOMERY, AL, January 26, 2015 (LifeSiteNews.com) — A U.S. district judge has struck down a constitutional amendment and a state law in Alabama defining marriage as a union between one man and one woman, saying they violate homosexuals' due process and equal protection rights according to the U.S. Constitution. But the ruling has been put on hold for two weeks pending the state's appeal to the 11th Circuit.
In a 10-page opinion issued January 23, Judge Callie Granade wrote that Alabama's definition of marriage "injures those children of all couples who are themselves gay or lesbian, and who will grow up knowing that Alabama does not believe they are as capable of creating a family as their heterosexual friends."
Granade's ruling was issued in response to a lawsuit by a lesbian who wanted to legally adopt her partner's child after they were "married" in another state. Alabama law permits spouses to adopt their partner's children, but since the state does not recognize homosexual "marriage," the plaintiff was prevented from doing so.
The state immediately asked for a stay of Granade's ruling pending appeal in order to prevent the same confusion that has developed in several other states, where marriage licenses were issued to same-sex couples in the hours or days after similar rulings only to become invalid when a stay was granted or a ruling overturned.
Granade granted a 14-day stay to allow the state time to appeal, but said she believes their effort would be unsuccessful since the 11th Circuit already declined to review a similar decision by a district judge in Florida.
Attorney General Luther Strange called the stay a "step in the right direction," but said he wished Granade had put her ruling on hold pending an ultimate decision by the U.S. Supreme Court, which is expected to rule on the constitutionality of laws that ban same-sex "marriage" later this year.
"While I would have preferred a longer stay to allow the matter to be settled by the U.S. Supreme Court's anticipated ruling in June, the 14-day stay allows more time for my office to prepare our stay request to the 11th Circuit Court while also affording the public time to resolve the confusion over the impact of the recent ruling," Strange said in a statement.
The stay expires February 9. If the 11th Circuit upholds or refuses to review Granade's ruling by that date, Alabama will become the 37th state where marriage has been redefined to include same-sex couples.
Excerpt from www.onenewsnow.com – Associated Press
SALT LAKE CITY (January 27, 2015) – Mormon church leaders are making a national appeal for a "balanced approach" in the clash between gay rights and religious freedom.
The church is promising to support some housing and job protections for gays and lesbians in exchange for legal protections for believers who object to the behavior of others.
It's not clear how much common ground the Mormons will find with this new campaign. The church insists it is making no changes in doctrine, and still believes it's against the law of God to have sex outside marriage between a man and a woman.
But church leaders who held a rare news conference Tuesday said "we must all learn to live with others who do not share the same beliefs or values."
(snip)
Mormon leaders still want to be able to hire and fire workers based not only on religious beliefs, but also on behavior standards known as honor codes. Gays and lesbians would have to agree to remain celibate or marry someone of the opposite sex. The church also wants legal protections for religious objectors who work in government and health care, such as a physician who refuses to perform artificial insemination for a lesbian couple.
Accommodations for religious objectors have factored into every state legislative debate over gay rights. But political pressure on rights groups to make concessions to religious conservatives is plummeting as support for same-sex marriage grows around the country.
Gay rights advocates say broad religious exemptions perpetuate discrimination. In some states, such as Arizona, business leaders now side with gay advocates, saying extensive religious exemptions hurt a state's image.
(snip)
"Accommodating the rights of all people — including their religious rights — requires wisdom and judgment, compassion and fairness," Holland said. "Politically, it certainly requires dedication to the highest level of statesmanship. Nothing is achieved if either side resorts to bullying, political point scoring or accusations of bigotry."
Copyright One News Now 2015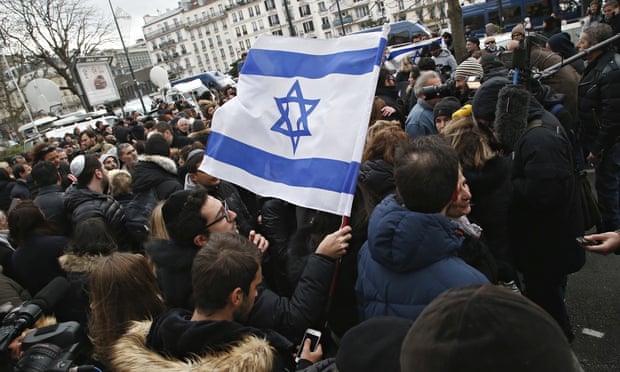 Excerpt from www.theguardian.com – Ian Traynor
European Jewish leaders, backed by a host of former EU heads of state and government, are to call for pan-European legislation outlawing antisemitism amid a sense of siege and emergency feeding talk of a mass exodus of Europe's oldest ethnic minority.
A panel of four prestigious international experts on constitutional law backed by the European Council on Tolerance and Reconciliation (ECTR) have spent three years consulting widely and drafting a 12-page document on "tolerance". They are lobbying to have it converted into law in the 28 countries of the EU.
The proposal would outlaw antisemitism as well as criminalising a host of other activities deemed to be violating fundamental rights on specious religious, cultural, ethnic and gender grounds.
From www.LifeSiteNews.com – Kirsten Andersen
The 42nd annual March for Life kicked off Thursday with an hour-long rally on the National Mall in Washington, D.C., as hundreds of thousands of pro-life activists gathered beneath sunny skies and surprisingly warm temperatures to hear speeches from pro-life politicians and prominent movement leaders.
The rally opened with a benediction from Roman Catholic Archbishop Joseph Kurtz of Louisville, KY, who was flanked by both Catholic and Orthodox clerics as he led the crowd in prayer and asked God's blessing on the March.
From www.LifeSiteNews.com – Dustin Siggins
A day that began in confusion ended in a pro-life victory as the "No Taxpayer Funding for Abortion Act" passed the U.S. House of Representatives yesterday, the 42nd anniversary of Roe v. Wade and the day of the March for Life.
On Wednesday, a planned vote on H.R. 36, the "Pain Capable Unborn Child Protection Act," was delayed after a number of Republicans expressed concern that the bill's rape exception was too narrow. House leadership replaced that expected vote with the defunding bill.
Excerpt from www.onenewsnow.com – Michael F. Haverluck
Despite negative business reviews and unfair treatment by the media after turning away a lesbian couple, a Christian wedding planner in Florida is vowing to stand for what she believes and not be bullied.
More than 26 years ago, Lana Rusev left Ukraine to escape the very religious persecution she is now being subjected to as a wedding planner in Florida, thanks to the recent legalization of same-sex "marriage" in that state.
Because of her sincerely held religious belief that marriage is only between one man and one woman, Rusev has been targeted by homosexual activists striving to tear her business down after she declined to service a lesbian wedding.